Online Payday Loan for Moving – Get a Short Term Loan to Cover Your Moving Expenses
Eliza
An online payday loan for moving offers homeowners or small businesses looking to transit from one location to another access to short-term financing in the best and most reliable way possible.
Between renting a truck and hiring movers to even paying for your packing supplies, you are probably wondering how on earth you will be able to cover all your moving costs and still be able to afford the payment on your new house or apartment.
While there are vast options to choose from when financing a move, it is always best to note some crucial factors to consider when moving across towns, states, or even from one country to another.
What is the Average Cost of Moving?
Moving from one location to another can be a pretty expensive experience.
In fact, according to recent data published by Home Advisor in January 2022, the average cost of moving is about $1,573.
While short-distance moves could cost as low as $200, long-distance moves may cost up to $10,000 or more.
A short distant move could be a move from one state or town to another, while a long-distance is usually a move from one country to another.
What are the Expenses to Consider When Moving Out?
These include:
#1. Moving Expenses
Your moving expense may include any (or all) of the following:
The cost of renting a truck to transport your household items or properties
The cost of hiring professionals to help haul your household items and property from point A to B
The cost of renting and moving a storage container
This may also include the cost of paying for moving supplies such as corrugated boxes, bubble wrap, cardboard boxes, and more for packing your items.
Renting a moving truck or van costs between $50 and $2,000 (depending on the size of the moving vehicle).
Professional moving companies may also charge you by the hour, usually between $25 and $50 per hour for each of their worker.
These costs, in turn, can amount to thousands of dollars for long-distance moves, especially when transporting large volumes of household items and properties.
#2. Storage Expenses
The storage cost when relocating varies based on the size of your moving items and personal belongings.
For instance, as a much safer way to move your items, you might decide to place them in a PODS portable container and transport the portable container to your new place of residence for unloading.
Renting a PODS portable container for a local move can cost between $349 and $549, while the cost for long-distance moves with a PODS container can cost between $1,000 to $3,000.
#3. Travel Expenses
Your travel expense also factors a lot into the overall cost of your moving, specifically when it comes to long-distance moves that involve driving or flying across state lines or countries.
You will have to consider the cost of gas, toll fees, airfare, accommodation, and feeding en route. This, in turn, could amount to hundreds, if not thousands of dollars.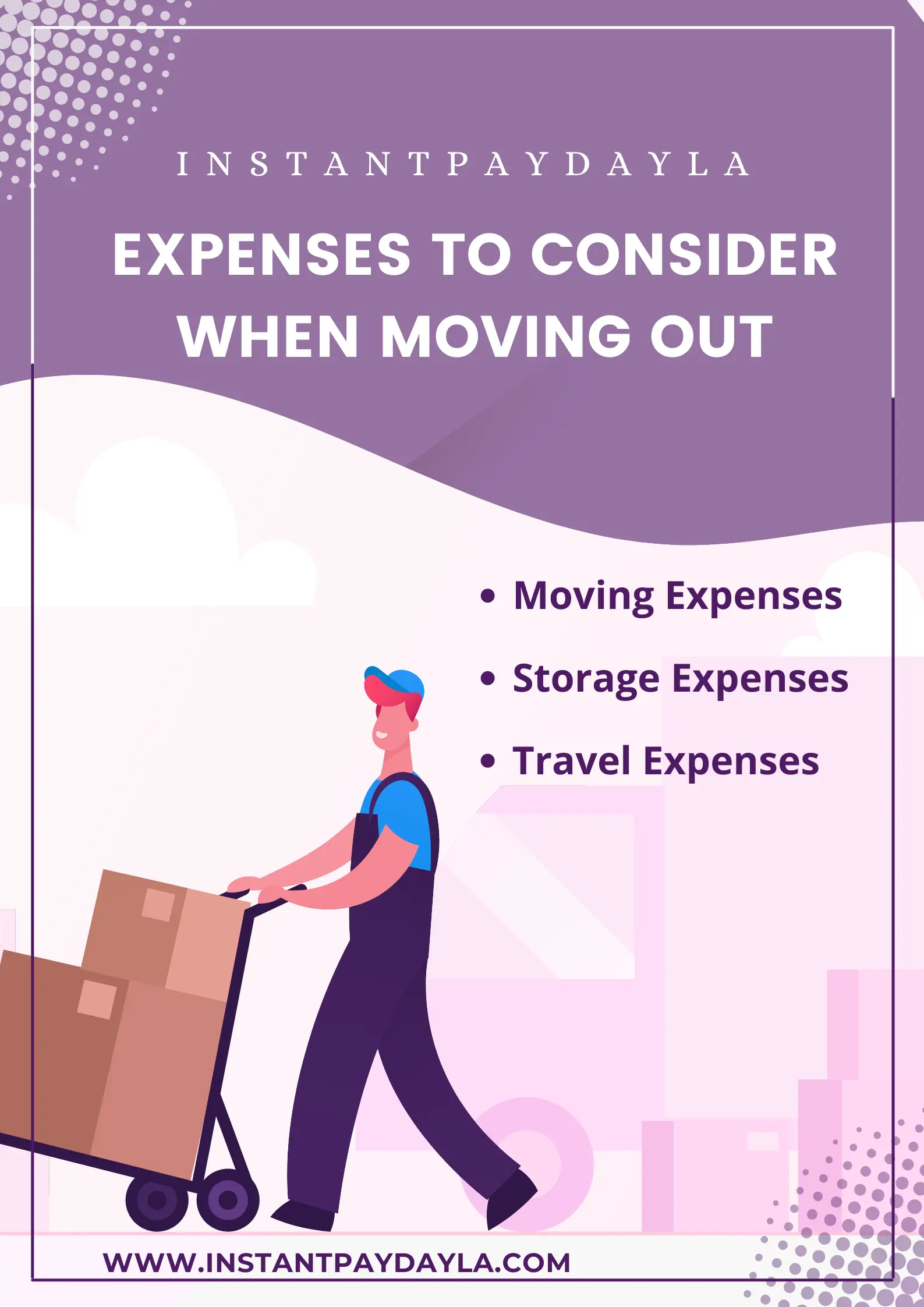 Best Ways of Getting an Instant Payday Loan for Moving
As discussed earlier, an online payday loan is one of the easiest and most reliable ways of raising financing for moving.
This kind of funding comes in as a short term loan whereby movers, at any point in time, can opt for whenever they are lacking in funds when moving.
These kinds of loans offer financing for both short-distance and long-distance moves.
What is most outstanding about this is that you don't have to wait a long time before you can get all your money.
On the spot, while moving, you may find that you don't have all the necessary funds to pay for your PODS container, which costs $2,500 for a long-distance move.
It's so simple!
All you simply have to do is hop on our site and complete a quick and straightforward loan application process that usually takes nothing less than five (5) minutes to complete, and you are good to go.
You don't even have to show good credit to qualify for this kind of funding – our no credit check loans for movers allow you access to short-term financing even with a poor credit rating or score.
Need Money to Move? Contact InstantPaydayLA
Here at InstantPaydayLA, we offer movers and relocating homeowners direct access to as many as $5,000 in payday funding to help with their transit.
With this, there's really nothing holding you back from committing effectively to your move.
Just like the mover earlier that was in search of $2,500 in funding to help finance the payment of his PODS container, you, as well, could find yourself in a much similar position.
It could be less, it could also be much, but one thing you can be confident of getting is all the funds you need, whenever and wherever you need them for your move.
As discussed earlier, our no credit check loan application process starts with a simple five (5) minutes for sign up, where you will be required to submit the total amount of money you want in funding, as well as a few requirements that are very easy to get by.
On completing this process for your move financing, our system will pair you immediately with the best kind of direct payday lender that is most suited for your current lending purpose.
The moment this is done, your funds will be instantly credited to your bank checking account for you to use at your disposal.
These usually take a few minutes to an hour to complete.
Conclusion
Moving should never be considered a challenging task!
Movers are often forced to go through the stress of packing mainly because of the lack of all the necessary amount of funds needed to complete the trip.
This, in turn, can cost you most of your precious time.
There is also that fear factor that comes into play whenever one moves from one place to another with insufficient funds.
With all these fear factors come trauma, which, in turn, could also cause you to make a lot of mistakes and even go the long way of leaving some of your belongings behind to save cost.
An online payday loan is the only way out for you now!