The Ultimate List of Money-Making Hobbies You Can Start Today
Eliza
Do you have hobbies or interests that you're passionate about?
Did you know that many of these hobbies can be turned into lucrative sources of income?
Whether you're looking to supplement your current income, save for a big purchase, or even turn your hobby into a full-time career, there are countless money-making opportunities out there for those who know where to look.
In this ultimate guide, we've compiled a comprehensive list of hobbies that have the potential to earn you money, ranging from the traditional to the unconventional.
So, whether you're an avid baker, a skilled writer, or a lover of pets, read on to discover how you can turn your hobbies into profitable ventures and start earning today!
Turning Your Hobbies into Profitable Ventures
Have you ever thought about turning your hobbies into a profitable venture?
With the rise of the gig economy and the ease of starting an online business, there has never been a better time to monetize your hobbies and interests.
The first step to turning your hobby into a profitable venture is to assess its potential as a business.
Consider the market demand for your hobby and whether you have the skills and resources needed to turn it into a profitable business.
Once you have determined the feasibility of your hobby as a business, it's time to start planning.
This includes creating a business plan, determining your target market, setting up a website or social media presence, and figuring out how you will monetize your hobby.
One of the best ways to monetize your hobby is to offer your skills or services as a freelancer.
Platforms like Fiverr, Upwork, and Freelancer.com make it easy to connect with clients and offer your services for a fee.
Another option is to create and sell products related to your hobby.
For example, if you're a skilled knitter, you could sell handmade scarves, hats, and blankets on Etsy or other online marketplaces.
If you have a large social media following or a popular blog, you could also monetize your hobby through sponsorships and partnerships.
Brands are always looking for influencers and content creators to promote their products, so don't be afraid to reach out to companies in your niche and offer your services.
Make Money Doing What You Love
Making money from doing what you love is a dream come true for many people. Fortunately, there are several hobbies that you can turn into profitable ventures, regardless of your credit score.
Whether you enjoy crafting, photography, writing, or cooking, there are ways to monetize your interests and turn them into a source of income.
One option is to sell your products or services online. With the help of e-commerce platforms such as Etsy, eBay, or Amazon, you can easily set up an online store and sell your handmade or unique items.
Social media platforms like Instagram and Facebook can also be used to showcase your work and attract potential customers.
You can also monetize your hobbies by teaching others. If you are passionate about a particular hobby or skill, you can offer lessons or workshops either in person or online.
You can advertise your services through social media or websites like Skillshare or Udemy.
Finally, you can consider turning your hobby into a blog or YouTube channel.
By sharing your experiences, knowledge, and insights, you can attract a following and monetize your content through advertising, sponsorships, or affiliate marketing.
Turning Your Culinary Skills into a Successful Catering Business
Catering is a business that can be both fun and rewarding. Whether you're an experienced cook or just someone who loves to entertain, starting a catering business can be a great way to make money doing something you enjoy.
Here are some tips on how to make catering a profitable business:
Develop a business plan: Before you start your catering business, you need to have a solid business plan in place. This should include details on the type of catering you'll offer, your target market, pricing, marketing strategies, and financial projections.
Identify your target market: Knowing your target market is crucial to the success of your catering business. Consider who your ideal customer is, their preferences, and the types of events they're likely to host.
Create a menu: Your menu is the heart of your catering business, so it's important to get it right. Consider the types of events you'll be catering for and develop a menu that suits those occasions. It's also important to offer a variety of options to accommodate different dietary needs.
Set your pricing: Pricing is an important factor in determining the success of your catering business. Take into account the cost of ingredients, labor, and overheads, and compare your pricing with other catering services in your area to ensure you're competitive.
Market your business: Effective marketing is key to building a successful catering business. Develop a strong online presence through social media and a website, and consider advertising in local publications or attending trade shows or events.
Provide excellent service: The success of your catering business will depend on the quality of your service. Ensure your staff are well-trained and provide excellent customer service at all times.
Monitor your finances: It's important to keep track of your finances to ensure your business is profitable. Consider using accounting software to monitor your income and expenses, and review your financial statements regularly to identify areas where you can cut costs or increase revenue.
With the right approach and careful planning, catering can be a profitable and enjoyable business venture. By understanding your market, creating a delicious menu, and providing excellent service, you can turn your love of food into a successful catering business.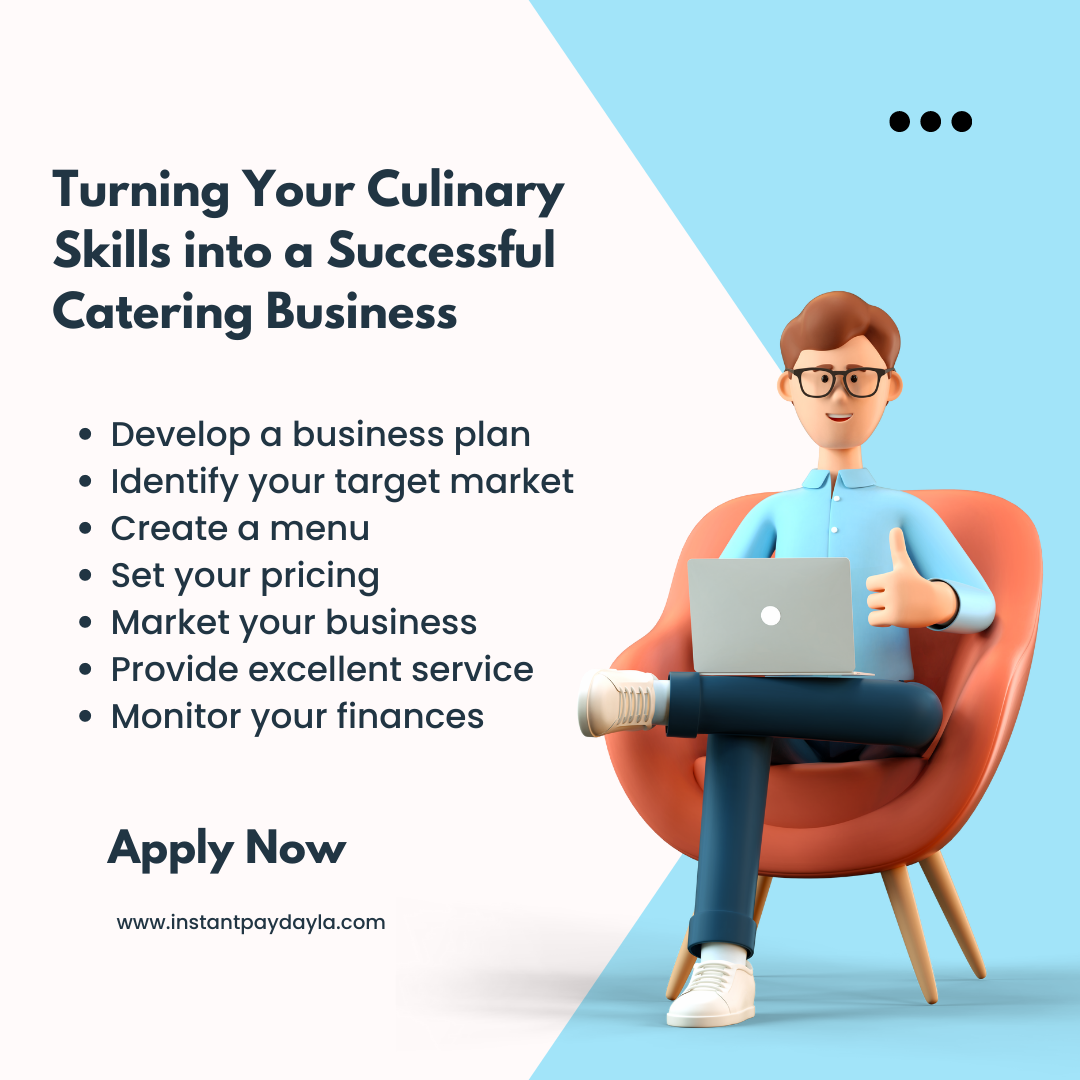 Hobbies That Pay: Turn Your Passion into Profit
If you're looking for ways to turn your hobbies into profitable ventures, there are plenty of options to explore.
Here are some of the top hobbies that can make you money:
Photography – If you have a passion for taking pictures, you can turn it into a lucrative business by offering photography services for events or selling your photos online.
Writing – Writing can be a profitable hobby, as there are many freelance opportunities available for writers, including copywriting, content creation, and blogging.
Cooking and baking – If you enjoy cooking or baking, you can start a catering or food delivery business or sell your homemade goods at farmer's markets or online.
Gardening – If you have a green thumb, you can start a gardening or landscaping business, sell your homegrown produce, or offer gardening consultations and services.
Fitness and wellness – If you're passionate about fitness and wellness, you can become a personal trainer, yoga instructor, or health coach.
Music – If you're musically inclined, you can offer music lessons or perform at local gigs and events.
Art – If you're an artist, you can sell your artwork online or at local art shows and galleries.
Collecting – If you have a passion for collecting, you can sell your collections online or at flea markets and antique shows.
Traveling – If you love to travel, you can start a travel blog or become a travel writer or photographer.
Whatever your hobby may be, with a little creativity and some hard work, you can turn it into a profitable business.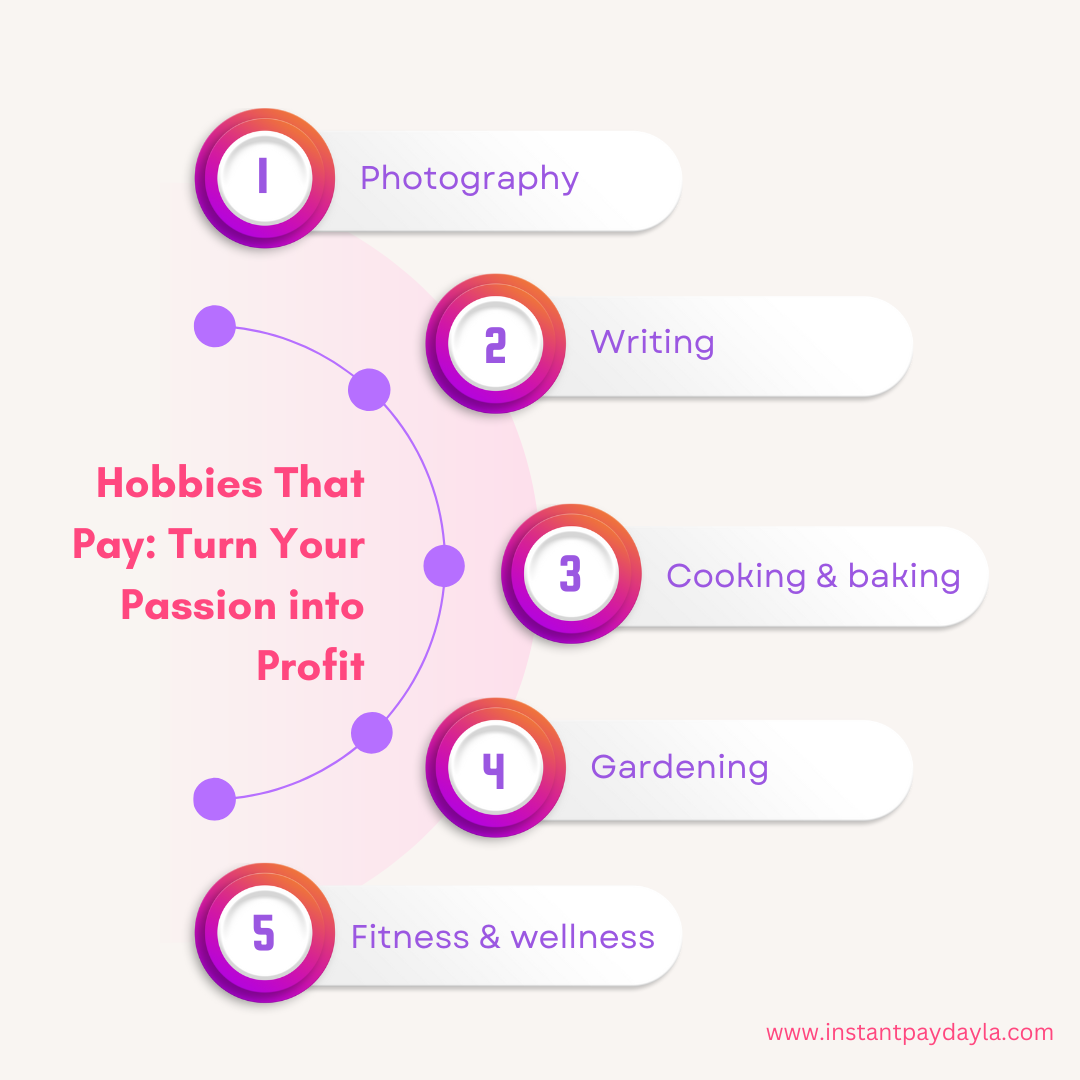 Enjoy Your Golden Years and Make Money Too: Hobbies for Retirees
Retirement is a time to relax, unwind and enjoy life after years of hard work. But what if you could combine leisure with a little extra cash?
Many retirees are turning to hobbies that generate income, providing them with a sense of purpose, as well as additional financial stability.
One popular option is arts and crafts. Retirees can use their creative skills to make and sell handmade items such as jewelry, pottery, or knitted goods.
These crafts can be sold online through platforms like Etsy or at local craft fairs and markets.
Not only does it allow retirees to indulge in their passions, but it also provides them with a way to supplement their retirement income.
Another option for generating income is through tutoring or teaching. Retirees with expertise in a particular subject can offer their services as a tutor or instructor.
They can do this through local community centers, schools, or even online platforms like Udemy or Skillshare.
For those who enjoy the great outdoors, gardening can also be a profitable hobby. Retirees can grow fruits, vegetables, and flowers and sell them at local farmers' markets or to local restaurants.
They can also provide gardening services to others who need help maintaining their yards or gardens.
Conclusion
In conclusion, pursuing a money-making hobby can not only bring you joy and fulfillment but can also provide you with a source of income.
The ultimate list of money-making hobbies offers a variety of options to choose from, whether you're interested in crafts, cooking, or online activities.
With the convenience of online payday loans no credit check, you can easily obtain funds to invest in your new venture.
So why not explore the possibilities and turn your passion into profit?
Whether you live in Louisiana or elsewhere, you can easily apply for $255 payday loans online same day and get the funds you need to get started.